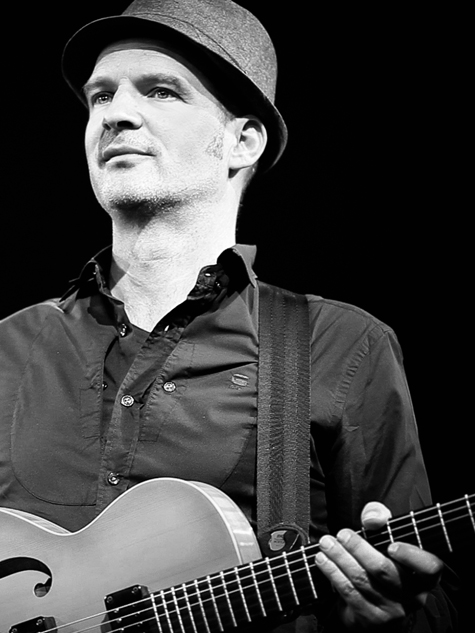 Wolfgang Muthspiel
Artistic Director
In the Fall of 2016 Wolfgang Muthspiel releases an album of Quintet music for the ECM label. "Rising Grace" features Wolfgang's current trio with Larry Grenadier and Brian Blade as well as the pianist Brad Mehldau and the trumpet player Ambrose Akinmusire.
As internationally acclaimed guitarist / composer, Wolfgang Muthspiel is commanding attention worldwide as an artist of deep integrity, intelligence and daring musicality. A contrast of quiet charisma and elegance with dazzling technique and risk-taking musicality distinguishes a Muthspiel performance. His highly personal musical language embraces openness with a compositional structure beyond derivatives. The record label material records – which publishes both Muthspiel´s own projects and the works of other artists in jazz and classical genres – released its 29th album in spring 2010 "Life at the Jazz Standard" a Duo with his former teacher Mick Goodrick. In addition to his jazz projects, Muthspiel is active composing for contemporary classical ensembles. He received commissions from the Ensemble for New Music/Zürich, the Austrian Ministry of Arts, Klangforum Wien, the Boston-based ensemble Marimolin, violinist Beni Schmid and most recently the Austrian Esterházy foundation (Haydn Year 2009). Thanks of this wide range of activities Wolfgang Muthspiel was named Jazz Musician of the Year in Austria, 1997 and awarded the "European Jazzprize" in 2003.
Among his current projects is the Duo "Friendly Travelers" with drummer Brian Blade, the Wolfgang Muthspiel 4tet (with the Swiss piano player Jean-Paul Brodbeck), MGT "From a Deam" with Slava Grigoryan and Ralph Towner, the "drumfree trio" (with Larry Grenadier and Chris Cheek) as well as an ever-changing Solo Performance incorporating many different guitars and loops.
The son of an amateur choirmaster, Wolfgang Muthspiel was born in the small town of Judenburg, Austria in 1965. He began studying the violin at age six, then switched to guitar at age 15. Muthspiel studied both classical and jazz guitar at the Hochschule für Musik und Darstellende Kunst in Graz, Austria. He won various national competitions for classical music as well as the International Guitar Competition in Mettmann, Germany. Muthspiel developed an interest in improvisation early on.
In 1986 Muthspiel left Austria and emigrated to the United States, first settling in Boston to study at New England Conservatory with Mick Goodrick and David Leisner. Later he attended Berklee College of Music on a full scholarship, graduating "Magna Cum Laude" in 1989. At Berklee he met Gary Burton, who invited him to fill the guitar chair in the Gary Burton Quintet, left vacant since the departure of Pat Metheny 12 years earlier. From 1995 until 2002 Muthspiel lived in New York where he co-operated in a huge variety of musical projects with Rebekka Bakken, Trilok Gurtu, Brian Blade, Dhafer Youssef, Youssou N'Dour, Maria Joao, Dave Liebman, Peter Erskine, Paul Motian, Marc Johnson, Bob Berg, Gary Peacock, Don Alias, Larry Grenadier, John Patitucci, Dieter Ilg. The albums with Rebekka Bakken and his brother Christian Muthspiel were the first ones to be released on Muthspiel´s own label material records, founded in 2000.
Since 2005 he is a guest professor at JazzCampus Basel, Switzerland.
"Muthspiel combines a flawless technique honed by classical training with a restless musical imagination as likely to derive inspiration from Bach as from the blues or the Beatles."
London Times
"Wolfgang Muthspiel is a shining light of the contemporary jazz-guitar generation."
The New Yorker
"Muthspiel's tricky compositions (have) an unstoppable groove over which he unveils a solo of Schwarzenegger proportions...These tunes go places, lots of them, and each is more interesting than the last."
The Village Voice
"A natural virtuoso. On the electric guitar he can produce sounds as light and nimble as a harp's; on the violin he is alert and steely. Partly composed and partly improvised, his pieces included homages to Stravinsky, his jazz colleague Paul Motian and the Beatles. "
The New York Times