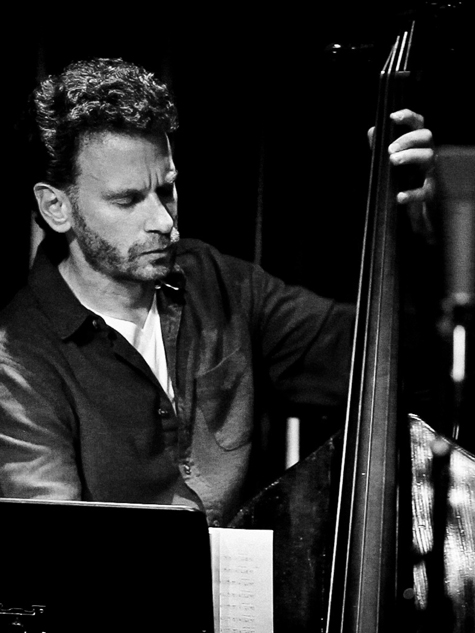 Larry Grenadier
As one of contemporary jazz?s most respected and accomplished bassists, Larry Grenadier has built an expansive body of work that encompasses a variety of significant projects with many of the genre?s most inventive and influential musicians. Over the course of a performing and recording career that spans three decades, he?s earned a far-reaching reputation, for his instrumental talent, for his instantly recognizable tone, and for the sensitivity, imagination and creative curiosity that have established him as an in-demand sideman and valued collaborator.
Grenadier's trademark upright bass work has been a longstanding fixture in the bands of pianist Brad Mehldau and guitarist Pat Metheny, and has graced albums by a broad array of prestigious artists, including Paul Motian, Charles Lloyd, Enrico Rava, Danilo Perez, Chris Potter, Joshua Redman and Kurt Rosenwinkel. He's also found time to make three albums with his own acclaimed trio Fly, and to record five more with his wife, noted singer-songwriter Rebecca Martin. (View DISCOGRAPHY)
"I'm hyper-aware of the balance between a studied approach to music and a more primal, instinctual understanding of the way music works," Grenadier states. "Having access to technique is useful in being able to communicate and express yourself musically. But music is about intuition and emotion. Compassion, strength, flexibility and stamina are all important qualities in playing music, but the most important thing is the ability to listen."
The aforementioned qualities have been present in Larry Grenadier's approach to music from early on. Growing up in a musical family in San Francisco, he was ten years old when he first took up trumpet – the same instrument played by his father Albert, who taught him to read music and gave him his first lessons. A year later, he was given his first electric bass, allowing him to play in a cover trio alongside his brothers Steve and Phil Grenadier.
It was through his musically inclined family members that Larry was introduced to jazz, and his budding passion for the music was galvanized after witnessing a live performance by the legendary jazz bassist Ray Brown the age of 12. That pivotal event led him to explore the work of such fabled bassists as Charles Mingus, Paul Chambers, Wilbur Ware and Oscar Pettiford, and to emulate the inspirational sounds that had captured his imagination.
"The more I got into jazz, the more I gravitated towards the upright bass," he recalls. "I think I was drawn to the subtlety and the physicality of the instrument. I liked that it was producing the sound naturally, and that you had to find a dynamic within a narrower range then with the electric bass. The whole thing is kind of a mystery to me, but I'm grateful that I got attached to this instrument and am still fascinated by it all these years later."
By the time he was 16, Grenadier was a working professional, gigging and recording with various members of his hometown's jazz scene, and playing with major jazz performers who were passing through San Francisco. During this period, he gained invaluable experience and expanded his musical horizons by working with a numerous notable jazz veterans, including Johnny Griffin, Bobby Hutcherson, Art Farmer, Johnny Coles, Frank Morgan and Toots Thielmans, along with such prominent Bay Area-based musicians as Donald Bailey, Eddie Marshall and Bruce Forman.
"Early on, I met a great piano player in San Francisco named Larry Vuckovich, who saw some potential in me and hired me to play with him. He allowed me a space to grow in, and through him I met many other great musicians who helped me tremendously. The opportunity to work with older, more experienced players was invaluable. Those guys generally didn't talk much about music; they just did it, and I learned from watching and listening to them. Working in that environment, I knew that I had to get my act together quick."
Rather than pursue formal jazz studies in music school, Grenadier chose to continue honing his skills through hands-on experience, playing live gigs and studio sessions while studying English literature at Stanford University. At Stanford, he met and toured with the great saxophonist Stan Getz, who was artist-in-residence at Stanford at the time. He also befriended and worked with another sax legend, Joe Henderson, whom he still counts as a key influence upon his musical consciousness.
After graduating from Stanford in 1989, Grenadier moved to Boston to work with vibraphonist Gary Burton, touring around the world as a member of Burton's band. By 1991, he had settled in New York, where he quickly established himself as a presence in that city's jazz community, working with a distinguished assortment of musicians as well as renewing his working relationship with Joe Henderson and serving a stint in Betty Carter's band.
In 1993, Grenadier met and began his long and fruitful association with the innovative pianist Brad Mehldau. In addition to becoming one of jazz's most celebrated combos, the Brad Mehldau Trio's musical rapport and shared creative ideals allowed Grenadier the perfect environment in which to grow and flourish as a player. He's recorded a dozen albums as part of Mehldau's trio, including the landmark five-volume Art of the Trio series and, most recently, 2012's Ode.
While continuing to work with Mehldau, Grenadier joined another major threesome, that of seminal guitarist Pat Metheny. In addition to the Metheny albums Trio 99/00 and Trio Live, Grenadier plays on the collaborative projects Metheny/Mehldau and Metheny/Mehldau Quartet. At around the same time, he also joined the band of another renowned guitarist, John Scofield. The same watershed period also found Grenadier beginning a decade-long working relationship with the visionary percussionist Paul Motian, with whom he performed numerous shows and recorded five albums, including the three-volume Live at the Village Vanguard.
Although he's gained substantial creative sustenance from such long-term associations, Grenadier also welcomes the challenge of new projects and unfamiliar situations. "Playing with a group of musicians over a period of years, you develop a sense of trust, and with that trust comes a willingness to take risks and try different things out," he notes. "But playing with people for the first time is also adventurous, because of the unknowns. I really enjoy both things, so I try to make time for both."
In 2000, the collaborative trio Fly formed with Grenadier, Jeff Ballard (who since 2004 has played alongside Grenadier in the Brad Mehldau Trio) on drums and Mark Turner on tenor sax. The democratic, boundary-breaking outfit has thus far released three well-received albums, Fly, Sky and Country and Year of the Snake, which showcase the musicians' uncanny chemistry as well as Grenadier's distinctive compositional skills.
"Fly is the product of three old friends looking for a reason to play together in a context that's stripped down to just the three of us," Grenadier explains. "We've known each other since we were teenagers and have shared similar musical journeys, so I'm very happy to be making music with Mark and Jeff, and to continue looking for new ways for us to make music that's rooted in our influences yet which could only be made right now."
Although his work with Fly offers him a more visible role, Grenadier has thus far resisted the urge to step out front and record under his own name – a reflection, he says, of how happy he is with the range of projects with which he's currently involved.
"People always ask me about doing something of my own, and I do have some ideas for a project that I'd like to get to eventually," he states. "But I haven't felt strongly moved to do it, because I already feel so satisfied with what I'm doing. I feel so lucky to be surrounded by great musicians who I'm continually inspired by, which is all I ever wanted out of music.
"Even after all these years, playing music is still a learning experience for me," he concludes. "I'm always working on the technical aspects of my playing, but at the same time, I know that what happens on stage between musicians isn't about that. The level of telepathy and intuition that exists in music, especially in jazz, is a constant reminder of what we're capable of, both inside and outside of music. I want to always keep a bit of that mystery at play in the music, and it's important to me not to over-intellectualize the magic."