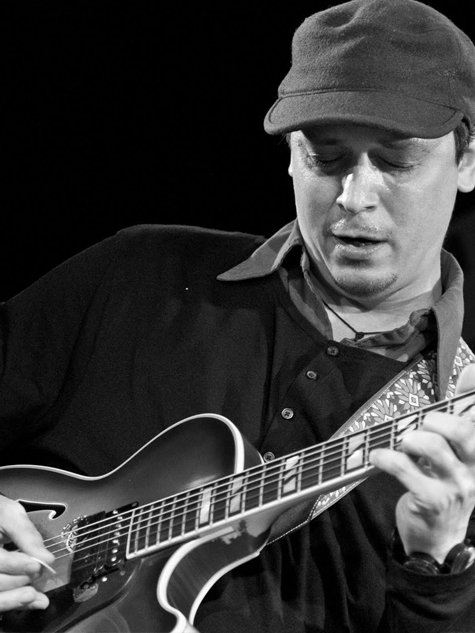 Kurt Rosenwinkel
Kurt Rosenwinkel is an American jazz guitarist, composer, bandleader, producer, educator and record label owner. He is recognized worldwide as one of the most influential guitarists and composers of the turn of the century. A natural innovator, Kurt?s music is deeply melodic and accessible while simultaneously working on the highest musical levels.
Kurt Rosenwinkel was born in Philadelphia on October 28, 1970 to musical parents. His mother is a classically trained pianist and a passionate lover of music, his father is a gifted improviser, self taught on the piano. Kurt began playing piano at age 9 and immediately started writing songs and has never stopped. He took up guitar at age 12 and always had many bands during his childhood with his friends, a large group of youngsters who all were involved in music in some way. During high school his musical development led him naturally to the Philadelphia jazz scene where he participated in weekly jam sessions with the local Masters, who if you are in Philly means World Jazz Masters. Kurt was very fortunate to have had the opportunity to experience jazz as a cultural music, a deep community experience and musical tradition in Philadelphia that is connected to the history of the music in a real and living way. This is how Kurt became a jazz musician, even as his influences come from other areas of music as well. Besides having developed a deep relationship with the traditions of jazz with all of its vast movements and eras, from Bebop to Electric to Big Band to Post-Bop, Kurt is also a true lover of Rock music, Hip-Hop, Avant-garde, all forms of Classical music, Flamenco, and Brazilian music.
After leaving Berklee College of music Kurt joined the bands of Gary Burton and Paul Motian and moved down to New York in 1991. During the 90s Kurt worked in these bands gaining valuable experience from these important older musicians, including a time in Joe Henderson's band, and also formed his quartet with Mark Turner, Ben Street, and Jeff Ballard. This quartet, and in particular his collaboration with Mark Turner helped define a compositional and improvisational style that is considered to be one of the touchstones of his generation, and has influenced the jazz scene widely since. This group's chemistry and innovation can be heard on Kurt's album "The Next Step" released in 2001 on Verve records to widespread critical acclaim. This album is considered to be one of the classic records of the turn of the century in jazz music. Kurt went on to record two more albums for Verve, making his total output for Verve four albums, including another innovative classic called "Heartcore", where Kurt played most of the instruments himself and composed and recorded the music himself. This album is considered to be an innovative and creative tour de force of modern music. On this album he was joined in production by one of the most important musicians in Hip-hop: Q-tip, of the legendary group "A Tribe Called Quest". Their relationship has continued and has resulted in collaborations such as Q-tips own albums entitled "Kamaal the abstract" (2006) and "the Renaissance" (2008).
Kurt moved on from Verve records after releasing an all-star recording entitled "Deep Song" which featured Brad Mehldau, Joshua Redman, Larry Grenadier, Ali Jackson, and Jeff Ballard. he then signed with Word-of-Mouth records where he continued to release four albums: "The Remedy, live at the Village Vanguard" which is a quintet double album of original material recorded live at the Village Vanguard, "Reflections" – a beautiful and intimate standards trio album, "Our Secret World" – a wonderful collaboration with the OJM big-band from Portugal, featuring elaborate arrangements of Kurts music, and finally Kurts most recent album entitled "Star of Jupiter", another double album featuring his quartet with Aaron Parks, Eric Revis, and Justin Faulkner. This album was hailed as an "instant classic".
2016 has seen a lot of new changes for Kurt. For the last nine years he has been a professor at the Jazz Institute Berlin, where he has helped young musicians grow and achieve greater artistic heights. In the beginning of 2016 Kurt resigned from his position there and decided to concentrate all his energies on creating music. At the same time he decided to create and launch Heartcore Records, a record company dedicated not only to releasing his own music but also to find and support great artistry around the world. The first release will be an album that Kurt has been working on for the last 10 years. It is a major work and is completely different from anything else he's ever done, although when one hears it there's a familiarity and understanding of so many elements that exist within his music. This album is called "Caipi", a reference to the Brazilian drink Caipiriña. This album is also an album which Kurt plays most of the instruments himself including Drums, Bass, Piano, Keyboards, Guitar, Voice and Percussion. And yet there are some great artists who cameo and are a part of the music, such as Eric Clapton, Mark Turner, and a young brilliant musician from Brazil named Pedro Martins.
"Caipi" will be released October 28, 2016 on Heartcore records in association with RazDaz records, the label owned by the great Israeli bassist and composer Avishai Cohen. Heartcore records and RazDaz have signed a cooperative label deal that is a very exciting joining of forces from these two artists.
It will be available worldwide and Kurt has put together a band of incredibly talented young musicians that will be touring extensively throughout 2017.
At the same time Kurt is also involved with other groups that continually do creative projects and tours. These bands are:
– Human Feel, which Kurt has been a regular member of for 25 years. This is a band that is co-led by Kurt and Chris speed, Andrew D'Angelo, and Jim Black. The band has released six albums and within the New York "downtown scene" and around the world have been highly influential.
– Bandit 65, a new co-led trio with Tim Motzer (guitar, electronics, guitar synth) and Gintas Janusonis (Drums, Electronics). This band is a completely free improvisational group with incredible chemistry that explores the inner and outer regions of the universe.
– Brian Blade Fellowship- Kurt is a regular member of this group and appears on two albums: "perceptual" and "season of changes"
– Orrin Evans quartet- Kurt and Orrin have begun collaborating over the last year and have discovered a musical simpatico that has already proved fruitful.
Kurt Rosenwinkel is already an experienced veteran with many classic moments behind him with many important innovations on the guitar and as a bandleader and composer, yet it seems that he is just entering the prime of his creative life. The future is bright, and a little brighter when an artist decides to be a beacon of light and hope.