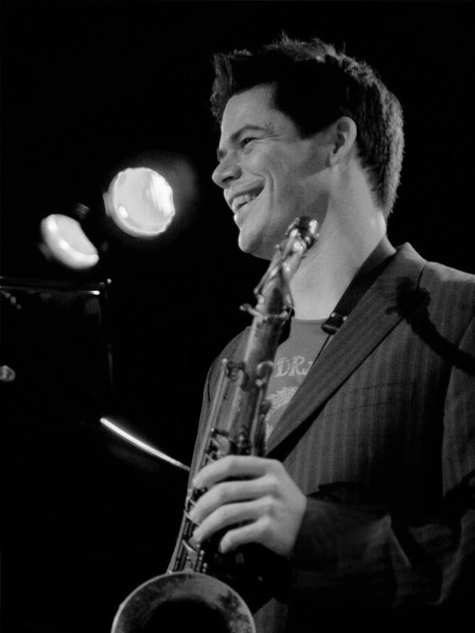 Seamus Blake
New York based saxophonist/composer SEAMUS BLAKE is recognized as one of the finest exponents of contemporary jazz. His music is known for its sophistication, bold improvisations and "sheer swagger".
John Scofield, who hired Seamus for his "Quiet Band," called him "extraordinary, a total saxophonist." Throughout his 24 year career, Seamus has garnered considerable critical praise for his masterful playing, his fine compositional skills and for his facility as a leader. Superconductor is Seamus' most ambitious project to date and was released in December 2015. The talent includes Nate Smith, Matt Garrison, Scott Kinsey, a 7 piece orchestral ensemble as well as special guest appearances by John Scofield and Gonzalo Rubalcaba. The album marks the debut of Seamus on EWI (electronic wind instrument).
Seamus plays on the 2015 Grammy nominated Camino by pianist Gonzalo Rubalcaba. He is also featured on Antonio Sanchez's "Meridian Suite" and is currently (2015/2016) touring with his Migration Band.
Seamus Blake was born December 1970 in England and raised in Vancouver, Canada. At age 21, while still a student at Boston's prestigious Berklee College, he was asked to record with legendary drummer Victor Lewis. After graduation, he moved to New York, where he rapidly established himself on the New York jazz scene. In February 2002, Seamus took first place in the Thelonious Monk International Jazz Saxophone Competition in Washington D. C. As the winner, he performed with Wayne Shorter and Herbie Hancock.
As a leader/co-leader , Seamus has released 16 albums. He is featured as a sideman on over 70 CDs.
Seamus has played on six of of the Grammy nominated Mingus bands' albums. He continues to play and record with Bill Stewart, Kevin Hays, David Kikoski and Alex Sipiagin. Seamus is frequently featured as a guest artist. In 2010 he was guest of honor at the International Saxophone Symposium in Washington hosted by the US Navy Band. Seamus was a member of John Scofield's Quiet Band and toured and recorded with Dave Douglas. Some of the many other artists he has worked with include Eric Reed, Ethan Iverson, Chris Cheek, and Matt Penman.