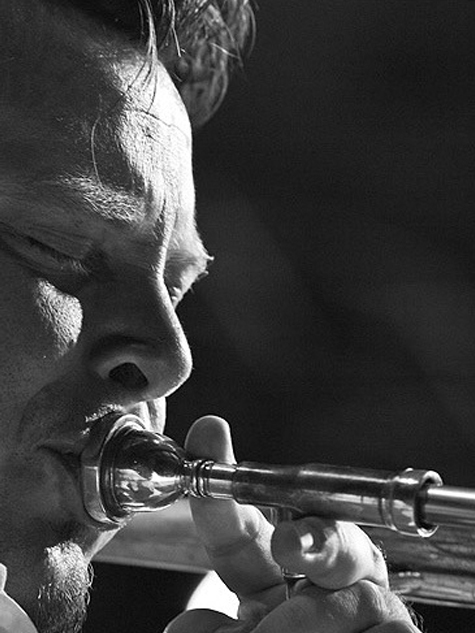 Adrian Mears
Originally from Sydney, Adrian was born in 1969 in Australia and has been welcomed in Europe since his arrival in 1991. Already in Australia he was nominated as ?best Australian Trombonist? receiving awards not only for composition but as well his quintet ?Free Spirits? ?Best Jazz Group 1990?. After studying privately in New York with the likes of Robin Eubanks, Steve Turre`, Conrad Herwig and Slide Hampton he decided to move to Europe where he quickly established himself as one of the strongest voices on Trombone in the European scene.
Mears`s career is already distinguished by performance and recording credits alongside the likes of the Vienna Art Orchestra (member for 8 years), Kenny Wheeler, Bob Brookmeyer`s New Art Orchestra, McCoy Tyner`s Big Band, the NDR big band with Tim Hagans, Bobby Shew, James Morrison, Don Pullen, Eddie Palmeri, Charlie Mariano, Mark Soskin, Paquito DiRivera, Klaus Doldinger, Jeff Williams, Adam Pieronczyk, Joey Calderazzo, Peter O`Mara, Ronnie Burrage, Peter Herboltzheimer, Conexion Latina, George Mraz, Adam Nussbaum, Don Friedman, Carla Bley, Steve Swallow, Dieter Ilg etc..
He has a long list of recording credits among his own 5 Cds as a leader, which can be found on the ENJA label, TCB records or on the Blue Note Label together with the Scales Brothers and 55 as a side man.
Performed at German jazz festival Nürnberg-Jazz Ost West, Berlin, Burghausen, Moers, St. Ingbert or in Holland (North Sea), Russia (Moscow, Kiev), Poland, Switzerland (Montreux, Zürich Jazz No Jazz), Belgium, France, Greece, Norway, Jakarta, Montreal (Canada), Sydney, Shanghai (China), Bulgaria, South Africa (Grahamstown & Capetown) ect...
Mears has written over 460 original works and received composing commissions for diverse settings such as Classical Brass Ensembles, Big Band, Suite for Didgeridoo and Chamber Orchestra with jazz trio and wind ensemble, Travel Documentary for Australian T.V, a 60 piece choir and Chamber Orchestra with jazz ensemble which he recorded and released on his own label called MEARS MUSIC.
He has been teaching in the Music Universities in Mannheim for 10 years, as well as 2 years in Cologne and for the past 11 years at the Basel Music Academy (Switzerland) as Professor for Trombone, "Odd Meter" Ensembles and Ear Training.