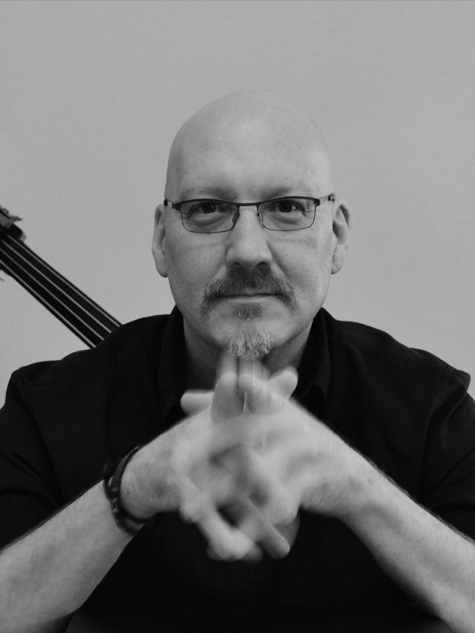 Scott Colley
Scott Colley?s stature as a leading bassist in the field of improvised music is well known, and easily measured. He?s been called ?one of the leading bassists of our postbop era, and a composer-bandleader of quietly serious resolve? by The New York Times, while musical colleagues, like saxophonist Joshua Redman, praise him for being ?one of the most musical bassists playing today. To me, he seems to have?this natural, intuitive, empathic sense of how to bring the most out of the other musicians and the music he?s playing.?
Colley, a three time Grammy nominee, has performed on over 200 recordings, eight of those as bandleader and composer. He is a first-call sideman, as renowned for his role in groups led by well-known headliners—John Scofield, Herbie Hancock, Chris Potter, many others—as he is for being part of all-star projects like "Still Dreaming" with Joshua Redman, Ron Miles, and Brian Blade; and "Steel House" with Edward Simon and Brian Blade.
Significantly, Colley is a leader of note, having assembled and composed music for a number of his own ensembles of top-level talent. His new recording Seven benefits from the combined prowess of Colley alongside trumpeter Jonathan Finlayson, keyboardist/singer Kevin Hays, and drummer Nate Smith. The recording serves as an earnest, effective example of the personal and the musical becoming one, and is dedicated to a number of important mentors who have passed away recently, including Andrew Hill, Michael Brecker, Jim Hall, Charlie Haden, Fred Tinsley and Colley's father.
"This last decade has been a big shift for me personally, and has made me appreciate the importance of being present in the moment, in life, as well as in music," says Colley. "These moments happen only once. I believe that because I'm more aware of this fact, I've come to a deeper understanding of my various experiences—how I've arrived at this point in my career, and my life."
Colley's musical journey began in his hometown of Los Angeles. He was born in 1963 where at the ripe age of 11 he set his sights on the bass as his instrument of choice. At 13, he began studying with bassist Monty Budwig, and later, attending Eagle Rock High School, with John Rinaldo the school's musical director. A full scholarship to the California Institute for the Arts (CalArts) greeted him after graduation. He focused on composition and jazz studies, while also studying privately with jazz legend Charlie Haden and classical bassist Fred Tinsley of the Los Angeles Philharmonic.
"Working with Charlie and Fred was amazing. They emphasized what was possible when people really take chances and connect—on a real level, not just on the surface. So that was one of the greatest lessons I got from them, in a lot of ways very similar to Jim Hall and other people that I've been lucky to be around. Andrew Hill was also that way."
Even before graduating Cal Arts, Colley's reputation began to spread and he was tapped to tour and record with famed singer Carmen McRae in 1986; two years later, he graduated with a Bachelor of Music degree, moved to New York City, and toured further with McRae, and such headliners as Dizzy Gillespie, Clifford Jordan, Jim Hall, John Scofield, Joe Henderson and Art Farmer. By the late '90s, he added stints with groups led by Joe Lovano, Toots Thielemans, Bobby Hutcherson, and Bob Berg to his resume, as well as extensive touring with Andrew Hill's "Another Point of Departure" sextet.
The first decade of the new millennium—from 2000 to '10—saw Colley become a major player with international recognition, touring extensively as a member of Herbie Hancock's working trio and a quartet with Bobby Hutcherson for five years, while continuing work in Andrew Hill's trio and sextet, as well as the Chris Potter Quartet. In 2005, he joined "Directions in Music", a collaboration with Michael Brecker, Herbie Hancock, and Terri Lyne Carrington; performed in Pat Metheny's acclaimed Trio; and took on teaching residencies globally.
Colley credits his wide range of experiences during these years as providing a sort of post-graduate training—opportunities to draw upon lessons and influences, and to see what works best in a variety of contexts. "I'm always asking myself the question—I've said this a lot—what's the most powerful thing I can do in this situation? If it's a ballad, I'm speaking of power in terms of delivering the story, like we were talking about Carmen McRae and the way she was able to be very soft. Or it could be power in a different way, volume or texture.
"My influences are super broad in terms of things that I listen to. My influences are everybody from Paul Chambers to [Motown bassist] James Jamerson to a lot of [Jimi] Hendrix and James Brown or... and classical influences and all kinds of things so you find those things within your history or your background that you can bring out in different ways. Sometimes they're not expressed overtly. "You get into a certain groove and then it's like applying these influences to the acoustic bass can be a whole different thing. It's not to really think in terms of genre when you're playing. It's just thinking of music."
It was during this period that Colley also stepped out as a leader and composer in his own right, recording and releasing five critically hailed albums in a seven-year run. His debut Portable Universe (1997), featuring a sextet that featured Potter and David Binney, was welcomed by the L.A. Times for "present[ing] an involved, emotional musical vision of contemporary life", and "marks him as a bandleader from which to expect great things."
Subliminal, a quartet outing from 1998 (which JazzTimes praised for "gripping originals…at once appealing and challenging") and two trio releases with Potter and Bill Stewart from 2000—This Place and The Magic Line, soon followed. In 2003, he
released Initial Wisdom featuring a quartet with Ravi Coltrane, Adam Rogers, and Stewart. A few years later, Colley's reputation for capturing both improvisational moments of magic and sentimental precision was secured in recordings like 2007's Architect of The Silent Moment (featuring Ralph Alessi, Craig Taborn and various special guests) and 2010's Empire (a quintet recording with Alessi, Taborn, Bill Frisell, and Brian Blade that No Treble called a "front runner for jazz record of the year"). As Colley told All About Jazz in 2015, allowing for the extemporaneous and the unplanned is a leading imperative in his approach to recording.
"There's a lot that happens to a composition in the process of playing and recording. And it's not just done when it's recorded either. It's still moving and changing. That's the way with all my writing. It's still a living composition that can change depending on different individuals that I might play the music with, or over the course of a tour with the same musicians, how we approach it to see how we can surprise each other and. It is possible, I've played with people who can lock that down and make it so those possibilities don't exist. And to me that's not that interesting. Because those surprises can be the best part of music."
Seven is the latest example of his desire to assemble lineups with the freedom to find their own sound. "When I started the project last year I had these three musicians in mind—it was very deliberate on my part," says Colley. "From the very beginning I could imagine interacting with these three in a very organic, very powerful way… though I've played with all of them separately, and we've been friends for many years, they've never really played with each other. So there was this element of not knowing exactly what was going to happen."
That idea of embracing the unknown, of searching for the unexpected, stands as a career-defining aspect of Colley's musical path—one that continues to balance his role as a leader and a band member, as a creative collaborator and as one following where the music itself leads. One can hear that in his work as a still high-demand sideman in the most recent decade of his ever-ascending and continuously expanding career, performing and recording with groups led by Potter, Scofield, Metheny, Donny McCaslin, Gary Burton, Luciana Souza, Kenny Werner, Edward Simon. One can also hear it in such recent collaborations as the KCB Collective, with Danish Saxophonist Benjamin Koppel and Blade, the trio "Steel House", and now with his current quartet.
It can be argued that Colley's sense of creative priorities distinguishes itself most in his role as leader and composer. "I've always been more interested in writing music that doesn't necessarily seem like a bass player's record and so my role in the music doesn't really change much whether it's my compositions or someone else's. To me, that's an interesting balance: to be decisive and solid and create music that has direction, but in the process of playing the music, to step back and not control every event. That's what brings the space and the beauty but also brings the power."