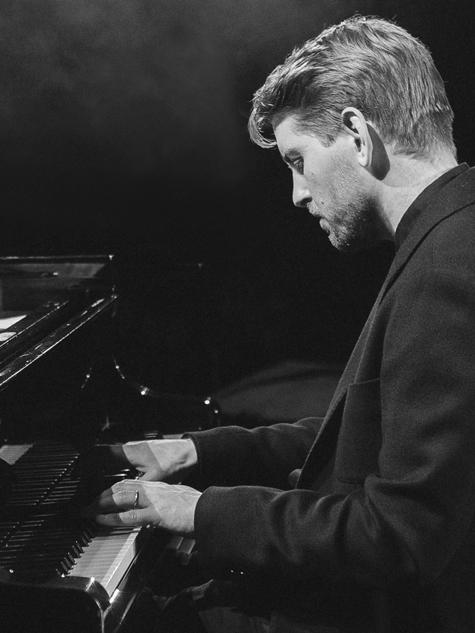 Pablo Held
Discovering music ? Born 1986 in Hagen, Germany. My father pianist and my mother piano technician. Herbie Hancock?s music was in the background while playing Lego, John Scofield?s music in the car on holidays. For my third birthday my uncle gave me my first drum set. Built by himself. Music was always there and always around me.
"Play something!" – On the company party of my grandfather I drummed in front of an audience for the first time. Aged four. To Stevie Wonder. Without thinking, without hesitation, just like a kid. Possibly the best way to make music? At least that's the way try I approach it even today.
"He dares to share this letting-yourself-fall-into-the-unknown with you…It does something to you." (Christian Weidner in the liner notes for "Ascent")
As a 10-year old my enthusiasm for drum lessons waned. Instead I sat down at the piano more and more often. My father took note and gave me a present: My first piano lesson with a colleague of his. Studying music – In Hagen the last year at school was approaching. But I had just one thing in mind: Studying jazz piano in Cologne. Passing the audition 2005 was the ticket to a new world. Cologne was magical. The scene! Seeing one, two concerts each night. Studying during the day, playing sessions and listening to music with friends. And lessons with two of my biggest heroes: John Taylor and Hubert Nuss. The best teachers I could imagine. New worlds every lesson.
Then the first jam with Robert Landfermann (bass) and Jonas Burgwinkel (drums). "You're my trio now", I supposedly said afterwards. I don't remember that, just the feeling. Today Robert and Jonas are two of my most important musical companions and closest friends.
My music – Since 2006 the trio is my musical home. I'm grateful for having experienced so much together over the years: Countless tours, nine albums on Pirouet Records, two albums on Edition Records and special collaborations with guests such as John Scofield, Ralph Towner, Chris Potter, Jim Beard, Jorge Rossy, Dave Liebman or Nelson Veras.
The interplay with Robert & Jonas feels so close and familiar, but at the same time as exciting as during our first jam. Our music develops in the moment, just like a conversation among friends.
Of course, I am happy to reach a wider audience and to have such a positive response. Awards such as the WDR Jazz Award, the SWR Jazz Award, or promotion by NICA Artist Development help me continue my journey. And when my hero John Scofield calls us "one of the best bands in today's music" or Ralph Towner talks of "an important example of the evolution of the jazz piano trio", then these are moments I can't really comprehend, but which fill me with deep gratitude.
Alongside my trio I play in a number of other bands. As sideman one can hear me on over 30 albums. In addition, memorable musical encounters took place with Billy Hart, Nasheet Waits, Mark Feldman, Anders Jormin, Tom Harrell, Mike Gibbs or Chris Speed. All of these are important influences and learning opportunities which in turn enrich my own projects. Music & people – On worldwide tours I got a chance to meet fantastic people and musicians. Often this is a stepping stone: A conversation turns into a regular exchange, a concert turns into an album collaboration. The music enables us to learn from each other, to network and to explore new things together.
"I like what you're doing, man. You're going to those other places! There's a strength and it's centered as it moves, you know. And you have that velocity, inside-velocity and storytelling!" (Wayne Shorter in "Pablo Held Investigates" Interview)
In my interview series "Pablo Held Investigates" I talk with my musical idols and companions since 2018: Wayne Shorter, Joey Baron, Dave Holland, Bill Stewart, Bill Frisell, John Scofield, Norma Winstone, Larry Goldings or Dave Longstreth spoke with me about their music and their creative process. One of my most important learning experiences to date. There to watch on YouTube, there to listen to on all podcast platforms, and sometimes there to read in JazzThing magazine.
Since 2017 I curate the concert series "Pablo Held Meets" in the LOFT in Cologne. I invite musicians who thrill me. International greats such as Norma Winstone, Ben Monder, Gary Husband, Jeff Ballard meet companions and friends such as Leif Berger, Kathrin Pechlof, Jason Seizer or Shannon Barnett. Each time a new line-up and a new repertoire.
As a founding member of the Cologne jazz collective KLAENG I organize festivals, concert series and workshops since 2009. In KLAENGrecords we also run our own label. This work is very rewarding for us all and also helps us understand the other side of the music business. Always with the aim of giving the audience a concert experience that we would like to experience ourselves.
A similarly rewarding change is teaching: 2011 to 2020 at the IFM Osnabrück, since early 2020 as assistant professor at the Johannes Gutenberg University Mainz, plus workshops all over the world. My ideal throughout: joint investigation at eye level. Just as I could experience it with my own teachers.